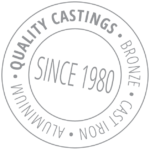 Welcome to Billmans Foundry, Australia's leading manufacturer of bronze fountains, street park, garden furniture and ornamental castings. We have a large range of functional and ornamental castings in Aluminium, Bronze and Cast Iron suitable for private of municipal applications. We also specialise in Heritage Reproductions, Restoration and Engineering work of all sizes.
Since its humble beginnings in a small tin shed on the outskirts of Castlemaine in 1980, father and son team of Gerald and Max Billman have taken Billmans Foundry from a part time business producing castings for the local area to now distributing a wide range of products across Australia.
Using age-old methods to create moulds from hard sand or lost wax ceramic shell in a variety of metals, we are able to produce quality products.
This hand's on family business boasts over 100 years of moulding experience and produces quality products large and small. Billmans Foundry has steadily grown and enjoying a reputation for craftsmanship has seen its work exported to Europe and Asia.
Being located in Castlemaine, Central Victoria (approximately 1.5 hour's drive north of Melbourne) we have good access to several large transport companies, making it easier to look after our interstate customers.
Always willing to accept a challenge and always under pressure from imports, our products show the craftsmanship of our highly skilled workforce. Proudly 100% Australian owned and made, Billmans Foundry continues the tradition of producing lasting products in bronze, cast iron and aluminium.
We also specialise Bronze Fountains, Engineering Castings, Art Casting, Reproduction Casting, Light Columns, Cast Verandah Posts, Bollards, Park Furniture, Bronze Water Features and urns.